Facts about Ajay Devgn is that he is one of the most vulnerable actors of Bollywood. His signature style of delivering dialogue to his deadly beard looks, the actor has done justice to all his roles.
Besides his, mind-blowing acting, Ajay Devgn is rarely seen in any controversy. Also, the actor's grounded attitude is heart winning. His Bollywood journey is worth appreciating. The life of celebrities is always like an open book. Still, some secrets are left behind especially when it comes to actors who are not social like Ajay Devgn. So, let's talk about a few astonishing facts about Ajay Devgn that not everyone is aware of.
Amazing Facts about Ajay Devgn:
Ajay Devgn's family connection with the film industry:
Many people know that Ajay Devgn's father Veeru was a famous Bollywood stuntman and an action film director. But do you know even Ajay's mother has a connection to Bollywood?
Ajay Devgn's mom Veena Devgn has been a great producer. Both his mom and dad played an important part in the glamorous industry during the '70s and '80s. Now, we know how Ajay is so talented and serious towards his work. The roots of his family are in the Film World from a very long time.
Ajay Devgn name is no more spelt as Devgan:
It's weird to say that Ajay Devgn is no more 'Devgan'. However, that's the reality! Many people get confused while pronouncing and writing Ajay Devgn. The reason behind that is, change in Ajay's real surname.
Yes, you read it right, in 2009 the actor officially changed his last name spelling from 'Devgan' to 'Devgn'. He took this decision because of some personal reasons but no body known what. Many assumptions do the rounds but no confirmed reports ever came.
Shockingly Ajay Devgn has been into Jail twice:
A statement by Ajay Devgn in an interview went viral where he disclosed that he has been behind the bars twice in his life. The actor revealed his 'Gundagardi' in college days.
Not only this but Ajay also opened on how he sneaked his father's gun which is illegal. There's nothing new when we see Ajay doing gangster kind of roles. He has been a real one in his young age so not a big deal!
He is a strong devotee of Lord Shiva:
Ajay Devgn's devotion towards Lord Mahadeva is quite evident from his tattoo and his movies. The actor follows Shaivi Hinduism and also wears a Rudraksha.
The handsome hunk has also revealed that he has a connection with God Shiva from childhood. Whenever he is in pain or any trouble, he thinks of Shiva. Ajay also visits temples and Gurudwaras but his love for Mahadeva is beyond limitations.
Ajay Devgn link-ups with the beautiful Divas:
Like other actors, even Ajay's love connections with B-Town beauties came up. Not all the rumours are true but some did have angles which resulted into a buzz all over the media.
Ajay and Raveena Tandon were in a relationship for quite a long time but Karisma Kapoor's entry in their life is the reason they broke up. As, per the sources, Ajay fell in love with Karisma when he was with Raveena. Also, his name with Kangana Ranaut did rounds but no official confirmation on the duo's relation came in front of the Public.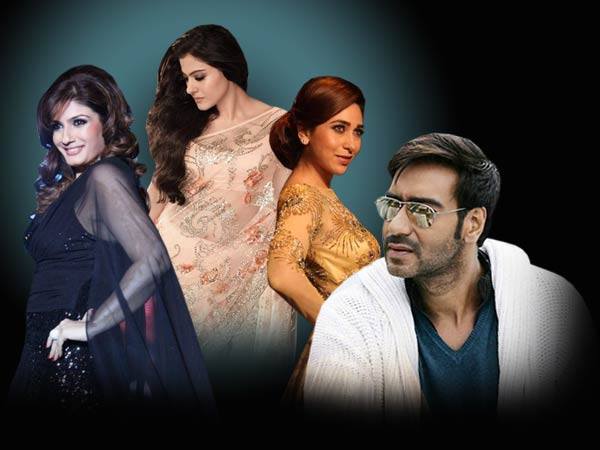 Lesser-known facts about Ajay Devgn debut opportunities:
Do you know Phool Aur Kaante was not the first opportunity for Ajay Devgn in the industry? Wondering why? Ajay Devgn got the offer for making his debut in Karan Arjun and also, in Darr. However, later both the opportunities went to the Khans of B-Town.
Never Attend Award Shows:
Just like Aamir Khan, Ajay Devgn also never attends any Award function. No matter how many times he gets into nominations, the actor does not trust the Award functions. He calls them dishonest. According to him, these events play tricks and give the award to stars who are ready to perform for them. In short, the heartthrob is against scammers and, want to praise the real talent.
Ajay Devgn: First Choice for Bajirao Mastani:
Hardly anyone knows that Ajay Devgn was the first choice for Sanjay Leela Bhansali's Bajirao Mastani. Nonetheless, because of the money and date issues, things didn't work well between the two. Therefore, Ranveer Singh got the role. Ranveer did a great job but Ajay would have also looked amazing in the character of Bajirao.
The first celebrity to own a private jet:
When it comes to luxury, Ajay Devgn is no less! He is the first Bollywood celebrity who bought a six-seater private jet. Ajay uses it for both personal and professional use. The impressive part is despite owing such high-end amenities the actor is hard-headed.
Hence, these were some of the most surprising facts about Ajay Devgn. The actor has almost completed 3 decades in the film industry and still going high. From his perfect comedy timing to his action-packed scenes, Ajay's presence on the big screen is always pleasing to watch.