Eid al-Fitr is around the corner. The Holy month of Ramzan is gradually coming to an end. The Muslim community across the world now is gearing up to celebrate this festival. Family and friends gather together to greet each other, exchange salami, and enjoy a lavish feast together on this occasion. Before the celebration gets started, let's know about the 'Festival of breaking fast'.

Why Eid al-Fitr Is Also Known As Meethi Eid?
Eid al-Fitr is one of the biggest religious festivals that Muslims celebrate with immense pleasure. Eid al-Fitr marks the end of Ramadan, the Muslim holy month of fasting. They eat their heart out on this day. Eid Al-Fitr is also referred to as Meethi Eid. This Eid is mainly focused on the preparation of sweet dishes. So, it is called Meethi Eid. After a whole month of Iftar feasting which is full of rich delicacies of meat, the last day starts with sweets. Muslims prepare several sweet dishes including Sheer Khurma, Sewaiyan, Phirni, Shahi Tukra, and Falooda at this festival.
Significance of Eid al-Fitr
Prophet Muhammad started the tradition of Eid al-Fitr in Mecca first. Eid is the symbol of patience, devotion, piety, and endurance. Wearing new clothes people offer prayer and give alms to the poor on this auspicious occasion. However, their charitable contribution is known as Zakat al-Fitr. Women apply Mehendi on their hands as a mark of happiness. Food is an essential part of the festival. Delicacies like Sewaiyan and Sheer kurma are a must as traditional food. Eid gifts, also known as Eidi, are given to children and dear ones.
 Expected Date and Time
Meethi Eid falls on the first day of Shawwal in the Islamic calendar every year. According to experts, the start of any lunar Hijri month varies depending on when the local religious officials spot the new moon. So, it does not always occur on the same Gregorian day. That is why the date of Eid fluctuates from year to year. This year Meethi Eid is expected to begin on the evening of May 2 and end on the evening of May 3, 2022.
We know that Meethi Eid is incomplete without delicious dishes. From tasty starters to meaty main courses, and Eid special desserts, the Muslim people lay a feast during the Eid celebration. Here we have compiled a selection of traditional Eid special dishes that will make you feel happier. Have a quick look at the food that will just double the festive vibe for you in the most indulgent way.
Rose Sharbat
Rose sharbat is a popular aromatic drink that uplifts your mood in a few seconds. Firstly, its refreshing effect helps you give a flavourful start to the feast. You can a bottle of rose syrup and prepare this drink from it. But, the homemade rose sharbat tastes oh-so-delicious. It is more healthy as it is chemical and preservative-free. All you need are sugar syrup, rose petals and flavors, rose essence, and cold milk to prepare this drink. Therefore, to beat the heat, give it a try!
Haleem
The meaty lentil soup-like dish is comfort food for non-vegetarians. The rich mutton stew is cooked with broken wheat and a delicious mix of Indian spices. The dish needs slow cooking. It is usually served during the Eid feast.
Biryani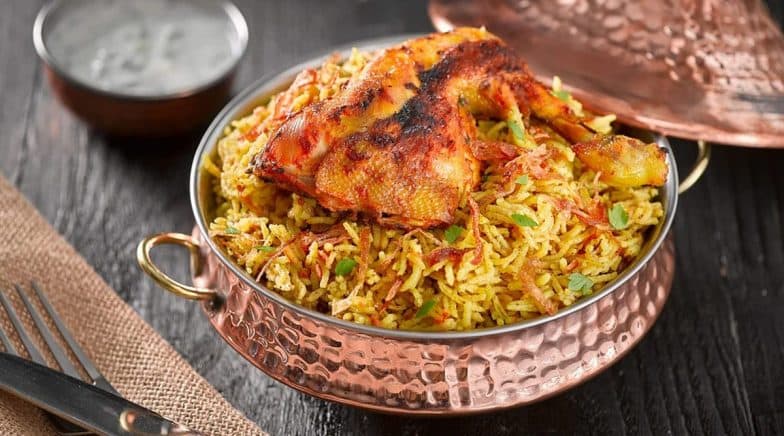 What is Eid without a plate of steaming hot biryani? Yes, biriyani is another must-have dish. The aroma of the biriyani feels like heaven! Fragrant rice mixed with spices and chunks of meat, biryani is everyone's hot favorite dish. One interesting fact about biriyani is that you will get to see many variations in its recipe. Every region in India has unique biryani recipes to offer. However, it is often served with raita or spicy salan according to your choice.
Kimami Sewaiyan
It will not be an exaggeration to say that Meethi Eid remains incomplete without Kimami Sewaiyan. It is an Awadhi-style dish. Mixed with the goodness of almonds, coconut, cashew, and raisins, Kimami Sewaiyan is cooked with vermicelli, milk, khoya, and grounded sugar. Above all, this dessert tastes delish.
Phirni
A classic Eid recipe, Phirni is kheer with a thicker consistency, made with broken rice. It is best served chilled. So, this dessert is perfect for summer. To make the simplest and yet the best pudding, Phirni all you need is rice, milk, sugar, nuts, and saffron. Moreover, It has a lovely aroma from the fragrant rice and aromatic ingredients like saffron, rose water, or cardamom powder. Adding nuts like almonds or pistachios makes it more flavorful.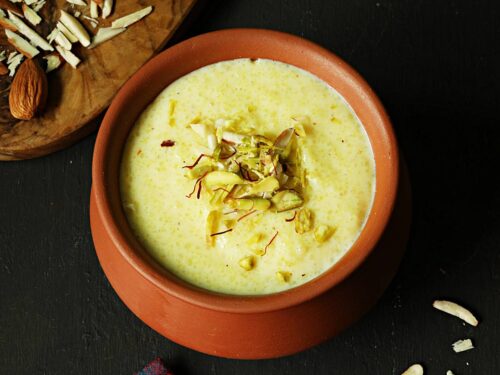 Sheer Khurma
This special vermicelli pudding is prepared in India and Pakistan during the festival of Eid-ul-Fitr. Sheer Khurma is prepared using vermicelli, dry fruits like pistachios, cashews, almonds, etc, milk, and sugar. Some also add rose water to it to add a flavor. This sweet dish is served as breakfast in the morning after Eid namaz. The vermicelli is fried in butter and then cooked in milk. After it thickens, sugar and dry fruits are added to it. However, the best part about Sheer Khurma is highly nutritious and it can be served cold as well as hot depending on the preference of a person. This creamy dessert is the perfect dish if you have sweet tooth.
Shahi Tukda

Shahi Tukda is a rich Mughlai dessert. It contains fried sugar syrup, coated bread, topped and soaked with fragrant creamy thickened milk or Rabri and garnished with dry fruits. One piece of a traditionally made Shahi Tukda gives you a feeling of royalty. However, being rich in taste, aroma, and flavor, Shadi Tukda adds a touch of sweetness to your celebration as well calories too.
Is there any plan to host an Eid party this year? In conclusion, it can be said that food plays a major role in the whole celebration party. It is high time to decide the menu for the feast. We have given you a lot of ideas regarding this. Prepare these classic dishes this Meethi Eid and make your celebration an indulgent affair. Enjoy delicious food and cherish happy moments with your loved ones.
Anyway, Eid Mubarak, everyone!