The world is filled with a wide variety of wonderful travel destinations and beautiful places to visit. It is very difficult to compile a list of the best ones. We all know that there is no shortage of awe-inspiring, fascinating locations to visit in this beautiful world. From deserts to hills, it portrays the glory of Mother Nature. When we travel around the world, we observe different cultures, languages, and mesmerizing places. Every place has its own unique culture.
Are you wondering which place to go to make your vacations memorable? Don't worry. For instance, catch a glimpse of the 15 most beautiful places across the globe.
1. Paris
Well, any list of must-visit places throughout the world is indeed incomplete with this place not being on the list. Paris is the city of love, romance, and art. It is the place that almost everyone has on their travel bucket list.
However, being a famous honeymoon destination, this city offers romantic walks down the beautiful lanes. For art and history lovers, it offers a memorable tour of the Louvre. Foodies who wish to relish the amazing French cuisine can simply check in the classic cafes of the city. Or you can just relax on the banks of the Seine for hours.
This magnetic City draws visitors from around the globe who come to see iconic attractions like the Eiffel Tower, the Louvre and the Arc de Triomphe, and Notre Dame Cathedral, and the list is never-ending. The best part about Paris is its magical atmosphere. 
2. Santorini
Santorini tops the honeymoon destination list currently. This Greek island woos newlyweds every year. You will witness its breathtaking sunsets, colorful picturesque beaches, and pastel-hued villages. The time people spend in Santorini is pure bliss. Santorini is actually a group of islands. Beaches with volcanic black or red sand and clear blue waters make this place a romantic holiday spot. With its famous Santorini sunsets, it is no wonder that it is one of the most popular bucket-list destinations.
3. the Maldives
The Maldives, the jewel of the Indian Ocean, offers you a dreamy tropical vacation. It is amazingly famous for its tranquil beaches. The Maldives offers marvelous sunrise and sunsets from different corners of the remote paradise. The picture-perfect white sandy beaches, palm-fringed islands, and crystal clear blue ocean are just perfect for Instagram-worthy moments.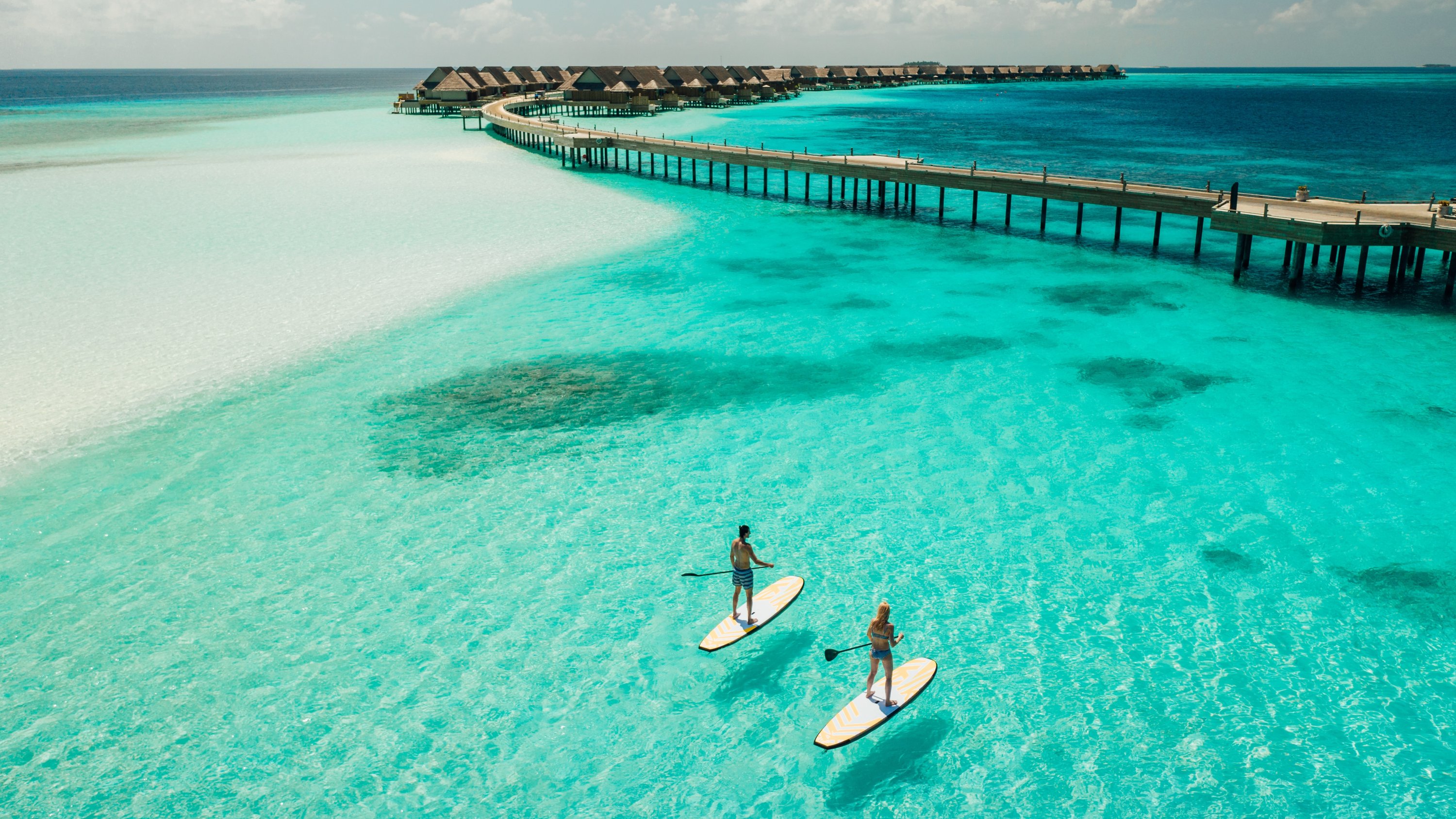 You can go scuba diving around the beautiful coral reefs and enjoy spending time with the striking underwater life. You can also enjoy your holidays with beach trips, spa treatments, and snorkeling. Be it adventure or leisure, Maldives is your definite answer. It is home to some of the world's most luxurious hotel resorts, water villas, and underwater restaurants. All these things draw visitors here all year round.
4. Amsterdam
This Dutch party city is famous because of its amazing bars, museums, and art galleries. The city is interconnected with hundreds of canals. For this reason, this city is named 'The Floating City.' Amsterdam can be best explored on bikes, scooters, or by a canal cruise. For art lovers, The Van Gogh Museum is amazing. On the other hand, the Anne Frank house tells you about the horrors of The World Wars in Europe. 
The capital city of the Netherlands probably has one of the most chilled-out vibes among all European cities. The city has everything. Started from bustling nightlife to picnic parks, to some spectacular museums. Ditch everything and rent a bike. You can have a picnic in the park. Also, you can go shopping in the streets of Jordaan. Try a cruise in Amsterdam's picturesque canals. Above all,  eat popular street foods such as the herring at the herring carts. You can also go for beer tasting at de Goyer's Brouwerij Tij. Moreover, you can explore the whole beautiful city.
5. Bali
Bali is a paradise in Indonesia that is on every travel enthusiast's list. It is known as the 'Island of the Gods'. The 17th-century Pura Ulun Danu Bratan is one of Bali's most picturesque temples. More than a thousand years old, Pura Besakih is known as the Mother Temple. It is considered the holiest Hindu temple in Bali. You will fall in love with the beaches, mountains, volcanos, and the food Bali offers. There are many luxurious resorts and hotels that provide you with an unforgettable experience. The island's rich arts scene is another top attraction. If relaxation is your top priority, go for a spa treatment. Or if you are a shopaholic, Bali is fabulous for you. 
6. Paro Valley
Paro Valley is located in Bhutan. It is known for its monasteries, fortresses (or dzongs), scenic beauty and calm Nature. Situated between China and India. Bhutan is a mysterious country that takes pride in sustainable tourism. You can find Paro Taktsang here, a Himalayan Buddhist sacred site. However, do not miss Eagle's Nest monastery. 
7. Jaipur
No trip to India is complete without visiting Jaipur. Jaipur is known as the 'Pink City' for the blushing color of its historic buildings. Jaipur is a princely wonderland of culture and heritage. It beams with architectural gems. This was originally founded to impress the visiting Prince Albert during his 1876 India tour by order of the Maharaja Sawai Jai Singh II. Moreover, a strange fact is that it is illegal to paint buildings any other color even today. However, Hawa Mahal, Jal Mahal, City Palace, and Amber Palace are also the top most popular places to check out while visiting this royal City. Jantar Mantar is now a UNESCO World Heritage Site in Jaipur. But it is considered as the largest of the five astronomical observatories. This was built by Maharaja Sawai Jai Singh II. You can try here the famous signature Rajasthani delicacy – dal, baati, churma.
8. London
It stands on the bank of the Thames River! London is the capital of England as well as the most popular destination in the world for decades. It is no surprise that London is top of so many people's travel plans. The city has numerous attractions. It includes the London Eye, Big Ben, Houses of Parliament, and the National Gallery. Westminster's Abbey, Buckingham Palace, and Nelson's Column also attract a large number of visitors. It is considered as the world's foremost fashion destination. London is also a paradise for shoppers. It is one of the most expensive cities in the world. But it is still possible to visit the place on a budget.
9. New Zealand
New Zealand is a not-so-populated yet peaceful country. It is famous for its beautiful scenery. If you plan to visit New Zealand then it will be a lifetime experience for you. You can enjoy affordable activities there like a 33.5-mile hike on Milford Sound. It is one of the biggest treks which finish at Lake Te Anau. 
New Zealand has the tallest waterfalls. And you can have a view of that while crossing the mountain pass. Moreover, if you are an avid skydiver, then you can fall from a helicopter in the Harris Mountains. Fiordland National Park, a part of the UNESCO heritage is definitely a must-visit place in New Zealand. Two famous glaciers, Fox and Franz Josef are worth watching in New Zealand.
10. New York
An iconic global center of the world that has inspired the world with its brilliant architecture, movies, and art. This is considered as the most happening city. The reasons are the magnificent skyscrapers, Broadway shows, and beautiful landmarks. These make it the perfect destination for travelers from all over the world. New York City never ceases to amaze with its energy and jazziness. It offers the flashy neon lights and the hustle and bustle of Times Square. Also, you will witness the skyscrapers of Wall Street and the verdant ways of Central Park. Also, world-class exhibition halls like MoMA and exceptional world heritage sites like the Statue of Liberty are situated here. New York is one of America's most exciting states you should definitely check out. 
11. Sydney
Sydney is a vibrant Australian city with hot summer sun and loads of places to explore. It offers beautiful gardens and iconic monuments to witness. Sydney Opera House, Sydney Harbour Bridge, and many more are on the list. The beaches are there to satisfy your travel craving. A trip to Sydney will have your travel bug highly satisfied.
12. Dubai
Home to the tallest tower in the world, the Burj Khalifa, Dubai is a global city. It is known for its lavish architecture and incredible skylines. This luxurious city has abundant opportunities. It has adventure activities like Desert Safaris through golden Arabian Dunes and skydiving over the beautiful Palm Islands. Reef and wreck diving, kite surfing, wakeboarding, and so on are also parts of it.
13. Machu Picchu
Machu Picchu is one of the more recently discovered old archaeological ruins in Peru. And it is definitely one of the top best places to travel in the world. These Incan ruins are full of mystery! Therefore, it makes them a stunner for historians and those who love ancient history.
There are plenty of interesting spots, including the famed Temple of the Sun. And the view from the peak of these ruins is worth the trip. You can take a hike along the trails left behind to witness more of Incan heritage.
14. Cappadocia
Cappadocia is likely one of the most interesting vacation spots in the world. This is because of its fascinating, unique, and borderline bizarre natural structures which are known as fairy chimneys. On top of this interesting phenomenon, Cappadocia also hosts underground structures of all kinds. It served as homes, stores, and cities all the way in the 4th century. Cappadocia has become so popular for thrilling hot air balloon rides. Hot Air Balloon Ride in Cappadocia is insane. One of the best ways to enjoy the beauty of Cappadocia's moonscape is by flying over it.
15. Iceland 
Amongst the most incredible travel destinations, Iceland is one of the most surreal and magnificent countries in the world. It is located close to the Arctic Circle. It offers to witness the breath-taking landscapes and exotic natural phenomena of the Earth that as the northern lights, also known as the aurora borealis. Dettifoss waterfall in Vatnajokull National Park is Europe's one of the most important waterfalls and an Iceland must-see attraction. 
It includes glaring cities to spectacular national parks. Therefore, it is hard to keep your bucket list stagnant. However, here, we put together a virtual tour of the top 15 best destinations in the world. Hope it fuels the wanderlust within you.
About Post Author