Well, as we all know, Elon Musk is the richest man on this planet Earth. He is the current CEO of Tesla and has bought Twitter for $44 Billion. Who knows what goes on in the mind of Elon Musk! But according to him, money was not in his mind when he bought Twitter. So, what was it that prompted the richest man on the planet to buy Twitter?
BACKGROUND OF TWITTER
Very few of us know anything about Jack Dorsey. American Web Developer and entrepreneur Jack Dorsey, along with Evan Williams and Christopher Stone co-founded the online microblogging service, Twitter in 2006. Dorsey has been serving as the CEO of both Twitter and the Payment firm Square ever since. But as it happened last year, he came under tremendous pressure from the investors of Twitter who claimed that as Dorsey is the CEO of both Twitter and Square, Twitter was not getting enough focus that it needed. Twitter can do better, they claimed. Again, the most daring thing Dorsey has ever done was to ban former President Donald Trump from Twitter as a response to the riots at the Capitol building.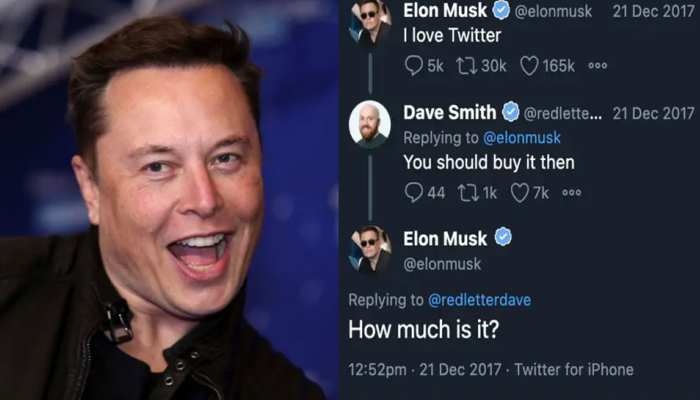 AND THE RESULT…
As a result, the activist investors started to associate Jack Dorsey with the censorship of Twitter. But, according to the head of the private equity firm Founders Fund, Mike Solana, " Dorsey actually did what he could all these past few years to keep the platform relatively open." All these incidents prompted Dorsey to resign from Twitter. Though he claims that he decides to resign and give Twitter a new CEO i.e. Parag Agrawal, at a multi-billion dollar company like this, a lot more can be at play behind the scenes.
CONNECTING THE DOTS
Buying this multi-billion dollar social media platform can very much be, to ascertain an ideological influence by Elon Musk. Mr. Musk himself is an avid user of Twitter and shares a very close connection with the former CEO Jack Dorsey. Last year, there was a change of guard. In that situation, Twitter authority asked Jack to resign from Twitter with the change of the activist investors. So, it gave way to this move by Elon Musk and in turn, also made their friendship grow stronger by Musk taking control over the company. As it is seen publicly that Jack Dorsey has been supporting Elon's bid in buying Twitter from the very beginning, it shows mutual respect and appreciation for each other.
MOTIVATION BEHIND THIS PURCHASE
There is also a deep dichotomy that existed in this company. For example, whether it is a mission-driven company or a business? Because if it is a listed company then it is driven by the rules of the Wall Street and that means it is driven by profitability and revenue goals. On the other hand, internally, the company is being positioned as a company for free speech, a company that is mission-driven where profits come after the purpose of free speech.
AND THE COMPANY GOES PRIVATE…
So, when this company goes private, which it is now, it gives them power and leverage to the one who owns it to run the way it needs to be run, to serve that mission and purpose and not be guided by the rules of the Wall Street. According to Manish Maheshwari, former Twitter India head, Elon Musk is truly, at his core, driven by the idea of free speech when he bought Twitter. Mr. Musk had not bought it for financial and economic gains but power and influence.
THE FUTURE
Elon Musk is one such person who functions differently from others. His company, Tesla is a small car company when compared to other automobile companies, and makes high-end electric cars. Still, the stock-market value of Tesla makes Elon Musk the richest person on the planet. It probably comes from an extreme optimism that these electric cars of Tesla have a lot more ability in the future and could lead Tesla to become the dominant car company as more and more cars are getting driven by electricity day by day. In today's world, no one is as futuristically visionary as Elon Musk himself. He is building tunnels as he thinks it is the future of transportation, he is building space ships, sending rockets into space. 
THE MARKET MOVE
Though, till now we can not surely say what exactly prompted Elon Musk to buy Twitter. What and how much value it would add to Twitter if he owns it. But there is another way to put it. We can say that Twitter is not as popular as Facebook or other social media companies, nor does it earns as much as Facebook and other social media companies. In terms of market cap, Twitter is not much big of a company. And maybe what brings value to Tesla might somehow add value to Twitter because of Elon Musk, or by monetizing the value of celebrities and sports stars using Twitter. Back in the days when Donald Trump used to tweet, it made billions and trillions of market moves and it was deemed extremely valuable Twitter.
LOOKING FORWARD
One thing is for sure that Elon Musk thinks that free speech is the bedrock of a functioning democracy. He describes Twitter as "the digital town square where matters vital to the future of humanity are debated."
In the hands of Elon Musk, we are sure to see lots of new features. He has promised to provide an easy user interface too. A a lot more people joining and using Twitter accounts now. Thus, gradually its market value is increasing. Mr. Musk believes that Twitter has immense potential. And in his words, "I look forward to working with the company and the community of users to unlock it."