Politicians affair with actresses have been a hot topic from the past many years. No matter how much they try to hide but eventually the incidences in their life becomes a public affair within no time. 
A lot of dating rumors surrounding famous political leaders had hit the headlines. However, not all of them turned true but few resulted in a massive buzz. Not only this but some Indian Politicians have been into shocking love controversies. Let's check out the list of such Political leaders who had affairs with actresses. Also, their love stories are the most talked about so, it doubles the excitement to know. 
Controversial
Indian Politicians Affair with Actresses:
1- Bipasha Basu and Amar Singh
When it comes to Politicians affair with actresses, Samajwadi Party former leader Amar Singh and B-Town's famous Diva Bipasha Basu's name always strikes in the list. Their dating rumours started after a telephonic conversation between the two leaked. Even so, none of them ever accepts it and calls it fake. In 2006, Amar Singh also filed a petition in the Supreme Court for illegally circulating conversations to defame him and Bipasha.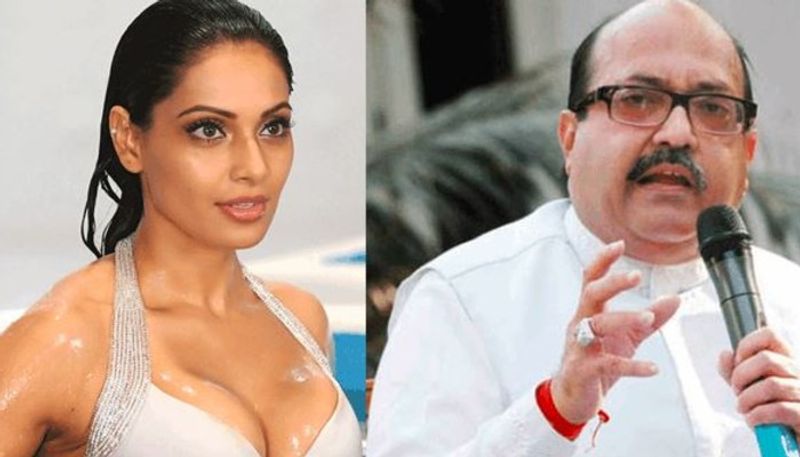 Untold Love Story of Polician and Actress:
2- Sonali Bendre and Raj Thackeray
Bollywood's amazing actress Sonali Bendre had once spread the magic of her beauty over the popular leader, Raj Thackeray. Hardly anyone is aware of the duo's bond but, during the '90s they were  frequently spotted hanging out together. 
There were speculations about their marriage also but things did not go well and they parted their ways. No official confirmation from any of them have ever come but as per the sources,  Thackeray's passion for politics and his dream of becoming a powerful leader came in between. Currently, Sonali is happy with her husband and son and Raj is also a strong body in Politics. 
Controversial love stories:
3- Digvijaya Singh and Amrita Rai
Their love story is also the most spiced up whenever it's related to Politicians affairs with actresses. Former Chief Minister of Madhya Pradesh and, popular TV journalist Amrita Rai  are also a victim of an embarrassing controversy. 
Amrita and Digvijaya's intimate pictures went viral over social media. The surprising part is, after this incidence, the leader did not deny their affair and got married. The two proved that love has no boundaries. In spite of having approximately 20 years of an age gap, they both managed and tied the knot without thinking about what people will say. 
4- Radhika Kumaraswamy and D. Kumaraswamy
Former Karnataka CM, D.Kumaraswamy married gorgeous Telugu actress Radhika Kumaraswamy. It is a second marriage for both of them. The two fell in love and tried to keep things under wraps but unfortunately could not. Finally, in an interview, Radhika confirmed their wedding and also disclosed about their daughter. 
Apart from this a complaint on the two for exploiting the marriage code under Hindu Personal Law also took place. Because of not getting sufficient evidence the duo were set free from the legal action. Now, they are staying happily together.
The Popular One
Indian Politicians Affair with Actresses

:

5- Jayalalitha and MGR

Late Tamil Nadu's Chief Minister, Jayalalithaa also grabs a place in the list of Politicians affair with Actresses. Wondering Why? Before a great leader, Jayalalithaa was one of the most famous actress and, with obvious reasons many dating rumours associated with her grabbed headlines. Still, the one that is most talked about is, her love story with Tamil Nadu's Chief Minister, MG Ramachandran.

MGR has been Jaya's mentor and also a great film star who accompanied Amma in almost 28 super hit films. Jaya wanted to marry MGR but, due to the age gap the two parted their ways. Even after not taking the relationship forward, Ramachandran introduced Jaya to Politics and helped her a lot. Later Political rift between the two ended everything and, then they were never seen together. Even so, many loved their Jodi especially their silver screen presence.

These were some of the major Politicians affair with actresses that came into limelight. There might be many more but could not come in front so, making assumptions without getting confirmations are waste of time. Politics is never a clean game but such love stories and dating scenes are evident that there can be something beautiful in Politics too. It's not always mind, heart also plays a role.